On November 10th 2021 a Blue Plaque for Godfrey Charles Joseph Isaacs was unveiled by the Mayor of Chelmsford.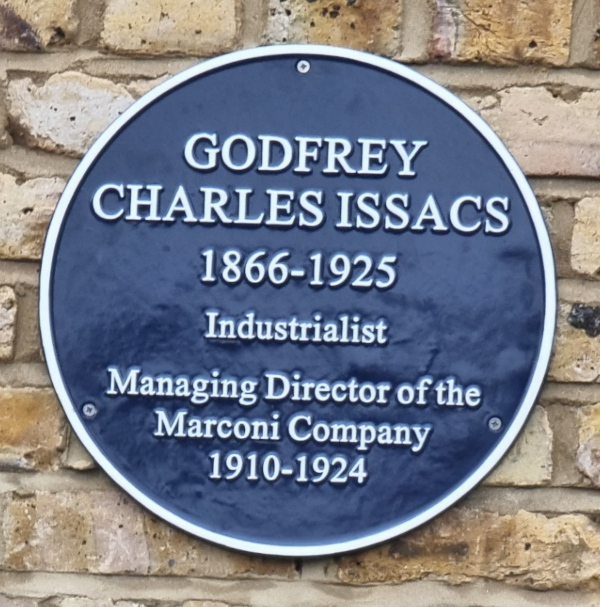 (note spelling mistake on plaque to be corrected!)
It is fitted on what was the Marconi New Street Power house, now 1 Dunn Side, Chelmsford (which is now a Gym).
Isaacs was taken on by Marconi in 1910 initially to run the Hall Street Operation in Moulsham Street. He did so well that within a few months the production had increased so much that they were running out of space.
He then organised the purchase of some land from the Church, which was being used as a Cricket ground. The New Street site was built on this land, with the main buildings completed in 17 weeks. The plan was to build a Manufacturing City within Chelmsford, so houses for the workforce were also built.
He had to take legal action against some of the competitors to protect the companies patents and ensure a good future for the company.
He was involved in the Pioneering broadcasts by Winifred Sayer (who became the 'First paid singer on British Radio'), which eventually resulted in the Dame Nellie Melba broadcast in June 1920.
In May 1922 he attended a meeting with the GPO in London, and he suggested that a public funded broadcasting organisation should be set up, with no adverts, being funded by a licence fee. His idea became the BBC. He was appointed the first Director of the BBC in 1923.
He retired from the Marconi Company in November 1924, and died in 1925 aged only 58, which the Times obituary attributed to overwork.