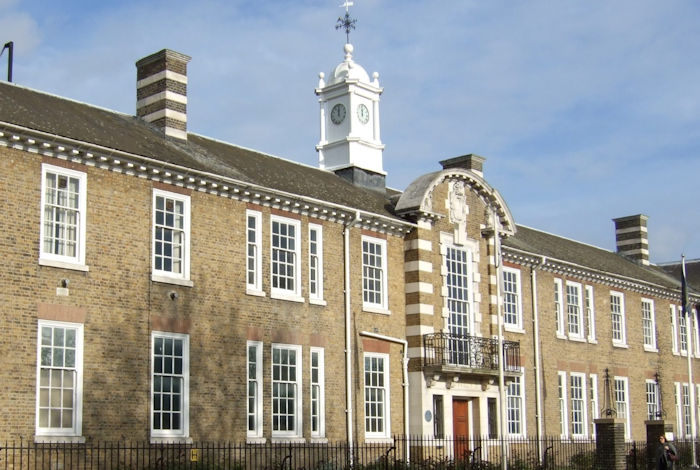 Dear Fellow Member,

First, let me wish all Veteran and Associate Members a healthy and safe remainder of 2022. It has been a hard time with the pandemic lockdowns and the cancellation of the 2020 Reunion. However, following the revival in 2021 the Reunion date is gradually moving back closer to the normal April timeslot (near or on Marconi's birthday).

There were no reported Covid infections following the 2021 Reunion and I think all participants enjoyed the opportunity to mingle once again with friends and former colleagues. Having said that it must be acknowledged that there will always be an ongoing risk, however small and no matter how many precautions are taken.

I would like to take this opportunity to welcome all new members to the Association and hope to see you at the Annual Reunion, which will be held on Saturday 2nd July, 2022 and will be our 85th Reunion.
You can apply online by clicking here for the subscription and ticket
Once again, Pontlands Park will be hosting the Reunion. As those of you who attended last year will know, the venue is in a pleasant rural setting with ample parking for those who travel by road and a bus service within walking distance.

There will be various displays and the merchandise table will, again, be located in the dining area. This year the 1953 Coronation Camera will be on show, courtesy of Associate Dr Paul Marshall. There will be plenty of time to enjoy meeting up with other attendees until it is time for the luncheon. This will take place, as usual, at 1.00 p.m. with the Annual General Meeting and the Raffle concluding the proceedings.
If you have any queries, please do not hesitate to contact the MVA Secretary (Email: This email address is being protected from spambots. You need JavaScript enabled to view it.)

We are, again, producing a commemorative Coaster and one per person is included in the ticket price. There will also be additional coasters, for sale, plus some coasters from previous years as well as a number of Ties and Badges. Many of you may not have the 'Centenary' 2020 coaster due to no 2020 Reunion; plenty will be available
Our President for 2022 is Veteran David Roscoe, ex Software Engineer.

Our Honoured Guest is Tim Wander.
This year, we have chosen the following from the caterer's menu: -

Starter: Bruschetta with sun dried tomato, peppers, bocconcini and basil

Main: Supreme of Chicken with Pancetta and White Wine Sauce (All served with seasonal vegetables and potatoes)

Dessert: Crème Brûlée with Sugar Snap

Coffee and mints
We appreciate that some attendees may have special dietary requirements and would request that you indicate this on your application. We are able to cater for most requirements.

As usual, Associate Members (formerly known as 'Friends') are invited to the Reunion. However, they are not permitted to vote at the A.G.M. We are delighted to report that the costs of the Reunion meal and Subscriptions are unchanged from last year. Veterans will continue to benefit from a reduced price of £34.00, whereas Associates will be asked to pay £39.00. I am sure you will agree that this is excellent value for a three-course meal with tea/coffee.
Subscriptions will remain at £8.00 per annum (£5.00 for Associates). As the Association has a very limited income, and in order to keep our expenses to a minimum, receipts for Subscriptions and/or Donations will not be issued unless requested so we thank you in anticipation.

Reminder: All attendees will be required to pay for their own drinks at the Reunion.

You can apply online by clicking here for the subscription and ticket
Alternatively, this letter and a paper application form will be posted to all members on our list, so you can use the paper application form, or download the paper form from here.
Please apply as soon as possible but not later than Friday 17th June. We regret having to set this early deadline but it is a requirement of our caterers.

Please note that it is not acceptable for attendees to bring their own drink or food into the venue. Please refrain from this practice as anyone doing so may be asked to leave the Reunion and could be refused a ticket in the future. Any required drinks must be purchased from the bar.

Your assistance is requested with the seating arrangements, and we ask you to indicate, on your application, with which Company you would prefer to sit (i.e. Comms, Mobile, Radar, Baddow, Basildon, Marine, MI).

We are compiling a list of forenames and nicknames in an effort to make the various lists less formal and enable people to distinguish between colleagues with similar initials. With regard to the name tags, 2021 arrangements seemed to work quite well so we will, again, produce the name tags on A4 sheets which will be at the merchandise table so you can collect your label and ticket as you enter the Reunion area. When you order your ticket, please indicate, in the box provided, how you would like your tag to read. If you attended the Reunion in 2021, it will read the same, otherwise, THE DEFAULT WILL BE TO PRINT YOUR NAME AS IT APPEARS ON THE FIRST LINE OF YOUR ADDRESS LABEL.
So, please fully complete the Subscription/Ticket application form.
We are, as usual, inviting entries for the 'Absent Friends' book, containing messages from Members who were unable to attend. Two copies will be produced and prominently displayed at the Reunion. If you wish to place a message in the book, please use the space provided on the on-line or paper form. Entries will be identified by name but no contact details will be provided unless you include them within the message area.

Your Management Committee is prepared to receive any nominations, propositions or suggestions for submission to the Annual General Meeting providing they reach the MVA Secretary in writing by 10th June 2022.

We now have over 110 'Associate Members of the Marconi Veterans' Association' and would be pleased to welcome more. If you know of anyone who would like to attend the Reunion, or just receive the newsletter, please urge them to contact the MVA Secretary, as soon as possible.

I am often not informed when a Veteran or Associate dies, and in these circumstances, I would like to extend my condolences to members of the families who receive this letter and apologise for any distress or inconvenience caused. Should you be aware of any Veterans or Associates who have passed away recently, I would appreciate it if you would let the MVA Secretary know so that I can amend our records and avoid any future embarrassment.

We trust that you will accept this letter as a very cordial invitation to attend the Eighty-Fifth Reunion, but if, for any reason, you cannot be with us, the Management Committee would like to take this opportunity to once again wish you the very best of luck and good health for the future.
Finally, one for your future diary, the 2023 Reunion will be on Saturday 22nd April
I look forward to seeing you at the 85th Reunion on 2nd July 2022.
With kindest regards
Colin Fletcher (MVA Secretary)
| | |
| --- | --- |
| | In 1922 the U.K. Government issued the first licence to a British broadcast station. The new station's callsign was "2MT", transmitting from a WW1 Army hut in Writtle. The first broadcast was made on 14th February 1922 by a team of Marconi engineers led by Captain Peter Eckersley. The broadcasts from Writtle were a great success and paved the way for the formation of the B.B.C later that same year. |
(Please note, the programme could be subject-to-change due to COVID and/or weather-conditions.)
Saturday 21st May 2022
Dave Monk from BBC Essex will open the weekend celebrations at 10.30am in the Christian Centre. The Centre will house an exhibition depicting Marconi's achievements and the role of the radio broadcasts from 'The Marconi Hut' in Lawford Lane under its call sign of 2MT. In the Small Hall there will be power point presentations and sound recordings. During the day there will also be 'pop up' talks and hands on radio equipment demonstrations given by members of the Chelmsford Science and Engineering Society and others.
In the Village Hall there will be a display of paintings related to the 1920's by the Writtle Art Group, and Writtle Portrait Group, plus work from the Junior school's earlier projects. The Chelmsford Amateur Radio Society (CARS) will set up again the Special Event Station that was run in February. There will also be refreshments available kindly provided by the Women's Institute.
On Writtle Green the Institute of Digital Archaeology from Oxford University will be bringing their Marconi Van exhibition - a unique multimedia, interactive exhibition, housed inside a 1968 Morris Minor Traveller. There will be other scientific activities to keep the children amused with the help of the Scouts and Guides, plus an ice cream van and burger van. It is also planned to have some Vintage 1920's cars on show.
The Writtle Wireless Walk will take about 90 minutes starting at The Rose and Crown during the afternoon. It will be a circular guided tour of the village highlighting its many connections to those early days of wireless broadcasting and the Marconi Company. It will feature the stories behind both the buildings and people that were involved in making 2MT Writtle the first radio entertainment station to regularly broadcast 100 years ago. An event that would change our world and the way that we communicate forever.
Booking is essential as numbers will be limited. The price is £5 per person (Children under 12 half price) and includes a donation to a local charity. Bookings can be made by calling Alan Pamphilon on 07779 931401
Email This email address is being protected from spambots. You need JavaScript enabled to view it. or visit www.http://www.chelmsfordhistorywalks.uk
In All Saints Church the Marconi / Platt window can be seen throughout the weekend with photos of its dedication in 1992.
Sunday May 22nd 2022
A Service of Celebration conducted by the Bishop of Bradwell in the presence of the Lord Lieutenant and the High Sheriff will take place at All Saints Church at 10.00am in the presence of other civic dignitaries. All are welcome.
Christian Centre Activities on Sunday will be concentrated on the exhibition starting at 12.00. In the small hall there will be power point presentations and sound recordings, and a further Writtle Wireless Walk starting from the Rose and Crown in the afternoon.
All Saints Church and the Christian Centre will remain open until 16.30 and refreshments will be available in the Church.
Souvenirs
Over the weekend the special limited edition 2MT Centenary book signed and numbered by its author, historian and lecturer, Tim Wander will be available, containing 208 pages in full colour at a cost of £10. Copies can be ordered in advance for collection on the day or posted via website 2mtwrittle100.co.uk which will "go live" soon. The book will be launched and can also be collected on the evening of the 17th May lecture (see above). It will not be available through bookshops or on Amazon.
Also on sale will be a special edition of Wilkins Marmalade, and Chelmsford Brew Co. based in Great Baddow has a special edition of the "2MT Radio Wave" Beer.
D S Eagle, family butchers, 9 Wellfields, will also be selling their jams and chutney with a special 2MT label.
An exhibition programme will be available for purchase on the day.
Car Parking
Writtle Green will be restricted to traffic but additional car parking will be available at Brewhouse Hoppit (adjacent to the Co-op in Bridge Street) or on the Eastern Campus of Writtle College University off Lordship Road.
It is with great sadness that we report the death of

Mr Michael Healey who joined in 1949, died in May 2022
Mr Roy Shead who joined in 1944, died on 24th April 2022, age 95.

He had a heart attack and died in Northampton hospital

Mr Melvyn Oddy who joined in 1952, died on 12th April, 2022, Age 84.

He worked at New Street, Writtle Road and Baddow. He joined as a boy of 15, then did National Service after his apprenticeship and came back to Marconi at the end of National Service and continued until he retired.

Mr Kevin Jacobs who joined in 1971, died on 5th April 2022 with cancer. He used to work in Assembly.
Click here for a list of recent (last 12 months) deaths of veterans which have been notified to us.
Click here for the full list of In Memoriam Veterans
The Marconi Veterans Association Newsletter for 2022 is now published.
The web version which is ideal for viewing on your PC, Smartphone or Tablet is here:
The pdf version is here, which can be viewed (ideally on a large screen) or printed. It is 20 A4 pages long:
Members who are on our Mailing list will be posted a paper copy of this Newsletter when the invitations to the next MVA Reunion are posted.
The next MVA Reunion is planned for July 2nd 2022.