As sometimes happens the secretary receives unusual phone calls. An example was the one I received from David Robson (neither Veteran nor Friend), who restores Land Rovers. An old Marconi Fire Brigade Land Rover had come into his possession and he was wondering if I would be interested in some photographs of the vehicle. Seeing the opportunity for a newsletter article, was I going to refuse? Certainly not! I later received the following from David.
This became a topic of conversation in 'The Fletcher's Arms' (see the article – The Lost Watch). And resulted in an email from none other than Derrick Peto who provided some background information and recollections along with some taken from the Internet.
A couple of weeks ago you mentioned a Land Rover converted to be a small fire appliance. The volunteer fire crew at New Street was mostly made up of guys from the maintenance dept, i.e. from the Carpenter's Shop, Plumber's Shop, Electrician's Shop etc.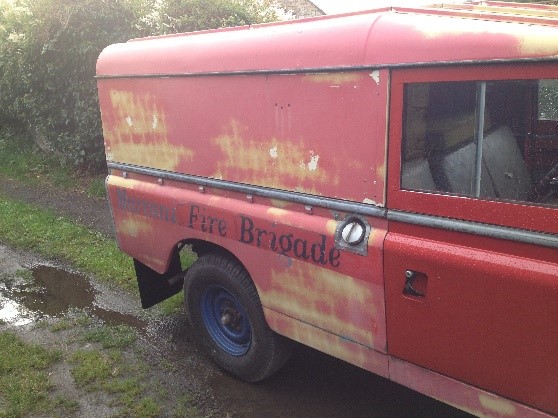 At that time each workshop employed dozens of workmen and had its own manager, deputy manager and secretary. The total number of employees in the maintenance department amounted to hundreds of people;
The original Marconi fire engine was made by a firm called Gwynne but was acquired in a dreadful state. The apprentices lovingly restored and rebuilt the Gwynne over many years in their own time at the Apprentices Club in Drivers Yard. Older men who had been apprentices when young were very angry when the Gwynn was removed by GEC Marconi at Coventry and forcibly taken there.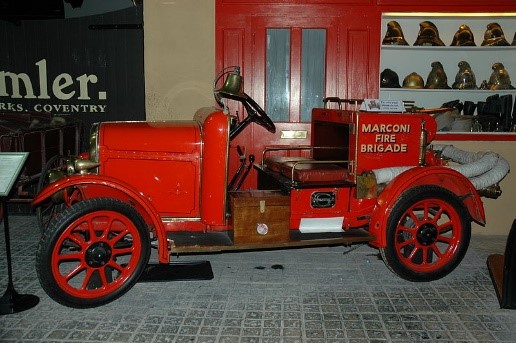 I used to go out to the car park by B720 to watch the volunteer fire men run-out their hose and attach it to a hydrant and then aim to try to hit a target and knock it over. When under water pressure it took a few guys to keep hold of the polished brass nozzle of the hose and prevent it from getting away and snaking all over the car park
The slow and ancient Gwynne appliance was not much use if the crew had to rush to a fire at Baddow or Waterhouse Lane or one of the other sites so a red Land Rover was purchased and converted to be a small fire engine.