Geoff Hardcastle - 1940 to 2018. Died 25th January 2018


In last year's newsletter I contributed to the item on Fred Boot who died in July of 2019. On a visit to his wife Peggy at their home in Tiptree late in the year she gave me a box file of documents and photos that Fred wanted to go to Marconi archives after his death. Looking through the material there were a couple of photos of Marconi College staff members and others, amongst them the one shown here of a group which included Geoff Hardcastle, one of the college's principal lecturers, and in the centre left his daughter Sarah. More on that later.
I wanted to know if Geoff was still alive and living in the Southend area so that I could contact him about Fred's death. Apparently Fred and Peggy would occasionally meet Geoff and his wife Ann socially, but in the period running up to and on Fred's death they had lost touch. Asking Colin our Secretary yielded nothing about him, so I next contacted someone in the swimming world in Southend, fellow veteran Reg Ramm, who in a short while came up with contact details for Geoff's son David.
Geoff was born in York in September 1940 and died on 25 January 2018. He was a senior lecturer in TV techniques when I encountered him. I'd been transferred along with a number of others from Airadio to EOSD in the early Weinstock reorganisation days. About 12 – 15 of us were put on a month-long mornings only electro-optical systems techniques induction course in 1970. Geoff and Fred Boot I think dealt principally with TV techniques, they both knew their topics very well and had an easy-going engaging style of putting the material over, leaving the feeling that one had a pretty good grasp of it. Some years later, at that time involved with customer training proposals, I saw further evidence of this when Geoff was presenting material for external customers here in the UK. A group of Singaporeans at the college in 1984 appreciated that easy and effective way he presented his topics to them (and they were intrigued to learn that a British Olympic swimming medal-winner in the LA Olympics that year was his daughter Sarah).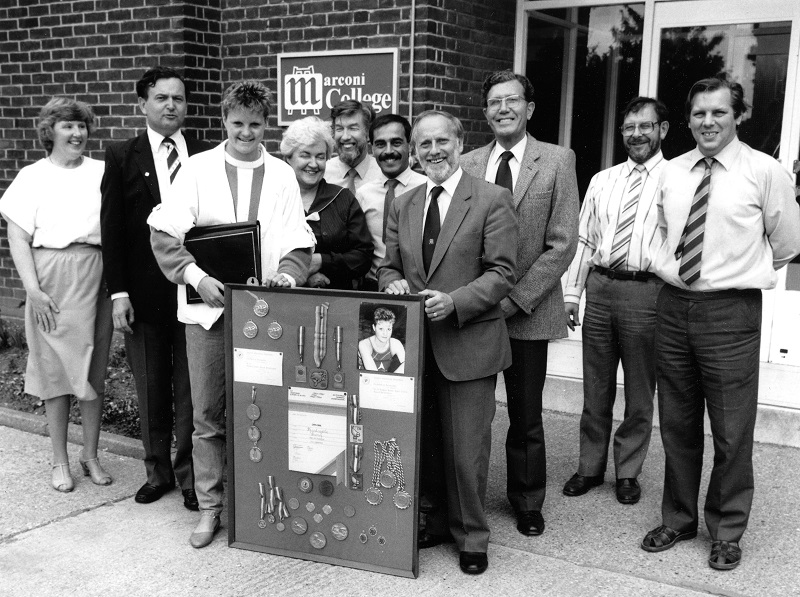 In the group photo Geoff is second from left and Fred Boot fifth from left – at the back peering over everyone's heads. In the forefront holding the right-hand corner of the display board is Ian Donaldson, college principal, whilst the person holding the other corner is Geoff's daughter Sarah, one of GB's women's Olympic swimming champions. (In another photo of Sarah and Ian Donaldson, the certificate at the centre of the board proves to be for the 1983 European Aquatics Championships in Rome where she won bronze in the 800m women's freestyle at the age of 14. However, I think she looks older than that so the occasion could have been for any of her subsequent successes up to World Aquatics Championships in Madrid in August 1986.
If anyone can identify any of the staff (or other) members in this photo above please get in touch via the editor.
Following the closure of Marconi College in 1997 Geoff continued designing and presenting technical training courses in a freelance capacity until 2005.
Geoff was married to Ann, a swimming coach who played a major part in coaching their daughter. They also had a second daughter Jane and a son David who still lives in the Southend area. Geoff was clearly dedicated to furthering Sarah's swimming career, getting up at 5am to take her to Southend swimming baths at Warrior Square for daily training sessions.