I worked on the Marconi Elettra III the whole of 1971 and 1972.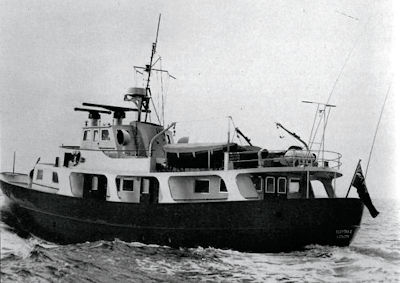 The first year we went right round England stopping to give demonstrations of the radio radar fish finders to the local Fishermen.
When in Scarborough, after the free drinks and delicious spread, one of the fisherman left and he jumped down into his boat going straight through the bottom!
In the 2nd year we went to the Mediterranean, and got caught out in the Bay of Biscay by a mistral wind which we were not expecting, and that was only time I saw the skipper Bert Christie worried!
Luckily the 6th fleet came to our rescue with an aircraft carrier (I think it was called Enterprise) which escorted us for 3 hours to calmer waters.
We got impounded in Dubrovnik in a security dock for a few days, as Marconi London had not done the paperwork for us to be there - armed guards etc.!
When we were going up the Yugoslavia coast line, about 1 mile offshore, and shells were landing all round us from shore batteries practising, with me hanging on to the ship's siren and the skipper on the radio. They at last saw us, (the skipper was a destroyer captain in the war I believe).
We called in at Malta for 3 week refit (service). One night Don, Nigel and I went for a drink. A large Bacardi cost 6 old pence and a bottle of coke 1 shilling. We did rather over do it and myself and Nigel fell off the gangplank into the harbour in our best suits.
Sicily was next then Capri followed by several Italian ports then Spain and home. Back to the London river for a couple of weeks then back to Poole in Dorset which was our base.