The successful exhibition and lecture series in Hall Street in 2016 and the Titanic Event in Bond Street the next year stimulated a re-awakening of interest in Marconi Heritage, driven by a combination of the Chelmsford Civic Society, the Marconi Heritage Group, the MVA, the Monday Group at Sandford Mill and the Chelmsford Science and Engineering Society. Collectively these have given lectures, held television demonstrations, and succeeded in getting a commemoration board for the Hall Street factory, mounted on the wall of the Woolpack public house opposite (see photo right), as the owners of the new flats refused to have it on THEIR wall, and we finally found a photograph of the wireless mast used for the co-located WW1 direction-finding station.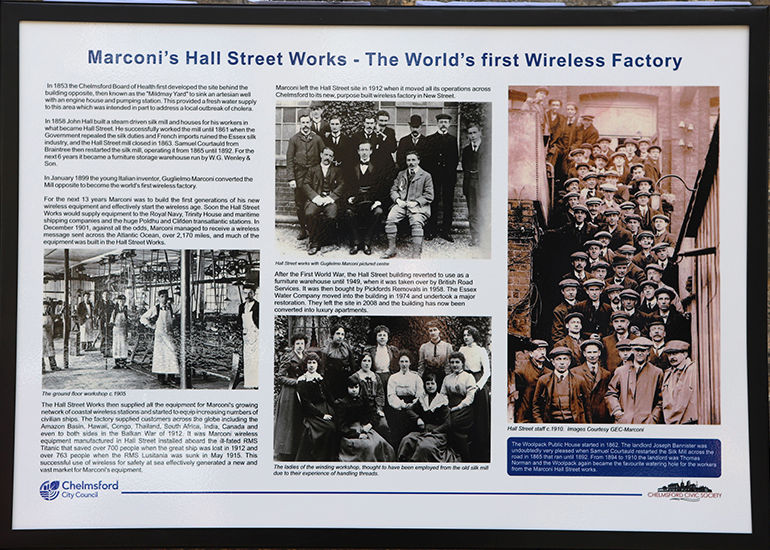 Longer term there have been preparations for a Centenary Celebration of the broadcast by Dame Nellie Melba from New Street in 1920 and recently this has been transmogrified into Essex 2020, a county-wide, year-long celebration of Creativity, featuring science, engineering, the arts, cultural events, festivals and community projects, culminating in the British Science Festival at Anglia Ruskin University for its first appearance in Essex. Details will be published over the coming year, and there will be opportunities for volunteers.
Two years later there is occasion for the centenary of the 2MT Writtle broadcasts and the incorporation of the British Broadcasting Corporation.Ongoing are the twelve online wikis, now including one for MIMCO which came about partly through interest in WW1 wireless direction finding and partly from the discovery of a complete set of the journal Mariner dating from the English Electric takeover in 1946 until 1983. These have been scanned and mounted to provide a detailed record of personnel activities and equipment development for the second of the original companies.
Stop press
At the time of writing (January) we have an application to list the Great Baddow Tower lodged with Historic England and their report is in circulation prior to submission to the Secretary of State for Culture, Media and Sport.