On the 4 June 2018, Norman Day (David Day), celebrated 50 years of employment within the Marine Division. It's not many Veterans who manage (or survive) 50 years in continuous employment. Norman must be made of strong material, 50 years is an amazing achievement: these days it is mostly unheard of for individuals to continuously work for 50 years let alone stay with the same company, within the same department!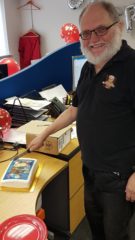 Norman started work 4 June 1968, and landed the job after one interview with MIMCO straight from school. Employed as an Office Junior within the Radio Traffic Department, referred to as A9. The majority of tasks involved filing and other office junior tasks. He progressed into processing invoices manually, processi
ng call data from thousands of vessels and working with telegrams. He was the proud owner of the second calculator (personal calculator – office didn't provide!) within Marine after moving away from pounds, shilling and pence!
Jump forward 50 years and Norman now processes invoices and sets airtime rates for all marine airtime customers electronically and with a touch of a button – although technology does of course bring its own issues when nothing happens when you press that button. All invoices used to go out by Royal Mail and the office was covered with piles of paper ready to be put into envelopes, now these are sent electronically via email!
If ever short of conversation with Norman, you just need to mention motorbikes and beer festivals – and the conversation just flows – like the ale!!
It was called MIMCO when he started and he has gone full circle to SIRM (Societa Italian Radio Marittima SPA) also a former Marconi company.
SIRM know that their growth and success is dependent on having devoted and capable team members such as Norman, and they wanted to recognise the contributions he has made in helping them achieve their goals. To honour his 50 years of service, SIRM presented him with a gift – a tankard inscribed with the words "4th June 1968, Cheers to 50 years."