Adventurous, funny, clever, a true friend - unique and will be sorely missed.
From a notice in the Essex Chronicle of 16 August 2018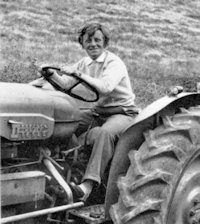 (There were too many tributes from former colleagues and associates to include here. Below, links to the Marconi Family and Marconi Radar History wikis. Also links to two YouTube video clips of an interview with her in February 2016: one a fuller version of memories of VE Day 1945 than those in the 2013 newsletter, page 7. Contact me via This email address is being protected from spambots. You need JavaScript enabled to view it. if unable to access the resources: I may be able to help. KE)
Don Halstead wrote: many older Marconi-ites will remember Pam as a formidable member of the Marconi Publicity Department headed by Raymond Raikes. She served in the WRNS in World War 2 and once wrote a sparkling review of her experiences on VE Day to add to an article I wrote for News and Views on Marconi at War to mark the 50th anniversary of peace. She had 'come on board' the company in 1960. I first encountered Pam through the Marconi Dramatic Society, probably in the early 60s. She was an accomplished actress, who could hold her own against such as Dan Boyle, also of Publicity, when it came to consuming beer during rehearsals. There are numerous examples of her work in the archives, not least the brochure celebrating Marconi's Centenary. After retirement she edited the MRSL News and Views for many years, until it fell victim to yet another round of cuts, at which she instantly vanished from my sight. On the basis that she was probably at least 10 years older than me she must now have been in her 90s.
Then later: she died peacefully on July 12, aged 97. There is a suspicion that she might have been frustrated not to make 100 - which would be Pam all over. Apparently she was living in the Chelmsford area (Ingatestone) until she eventually moved into a retirement home, Mary Feilding Guild, in North London, where she became friends with the literary editor Diana Athill. Immediately after 'News and Views' folded I recovered from her desk in Eastwood House some material and archive photographs intended for the next, ill-fated, edition, which she had abandoned. I rang her to let her know what I had done, but got my ear bent for dragging her in from her sunbathing. Pam decreed 'no funeral' but there was a wake in September, so I promised to forward the various bits we have in terms of tributes, history snippets and her piece on her VE day experiences for folk to share.
The short notice in the Chronicle sums her up very well, I feel. I am glad to have known and worked with her. RIP, Pam.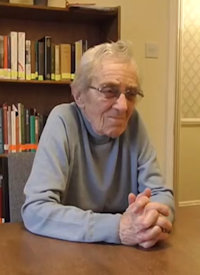 (John Keeble, the nephew of Pam's companion, Olive, said that friends met at Highgate Literary & Scientific Institute on Sunday 9 September to remember her and celebrate her life. Colleagues from Marconi days were there, and some of her work as editor of the in-house magazine was on display, as were photographs of Pam throughout the years, many of them exhibiting the mischievous, often surreal, sense of humour that was very much part of her!)
See also Don's article in the 'Marconi Family' wiki about Marconi's in WWII:
https://themarconifamily.pbworks.com/w/page/65600445/Marconi%20at%20War
Other tributes from John MB, Alan Hartley-Smith, Rob C in Marconi Radar History wiki at:
http://marconiradarhistory.pbworks.com/w/page/128154111/Pam%20Reynolds
Links to video clips, recorded in February 2016, one about Pam's VE Night memories:
https://extendtube.net/watch?v=4nfdIzzh7TU/ (see photo) gives a slightly longer version of what Pam wrote for Don Halstead for an edition of 'News and Views' in 1995).
https://marconiradarhistory.pbworks.com/w/page/128154111/Pam%20Reynolds/ a short clip where Pam recounts a ridiculous 'Dad's Army' moment: Private Pike, perhaps.