I worked at Marconi's 41.5 years.
I started work at Marconi's New Street site on the 10th November 1958, after my Demob from the Kings Royal Rifle Corps on the 31st of October 1958.
I started in the printed board section, and while there I was taught the art of silk screening, and was told that I was the first person to do that job in the Company.
Mr Ted Bennett taught me how to make printed Circuit boards. Ted then moved over to Baddow Research, then after a short time here he Emigrated to Australia. Before Ted left he put my name forward to follow him to Baddow. I had an interview with Professor L.E.Q Walker on a Friday and was told not to go back to New Street and to start at Baddow on the Monday, which I did and joined the Baddow Printed Board section. This section had three staff, Eric Ainsworth was in charge and Martin Wilde and me doing the work. The printed board section later became the Micro Circuit Techniques Laboratory (MAT LAB).
While there I met Peter McClinton who was into building and racing slot car racing kits and was also a track marshal at Snetterton race circuit. As I showed an interest in car racing he invited me to join him at Snetterton. I then became a Fire Track and Rescue marshal which I have been doing for 60 years and at 83 I am still doing it.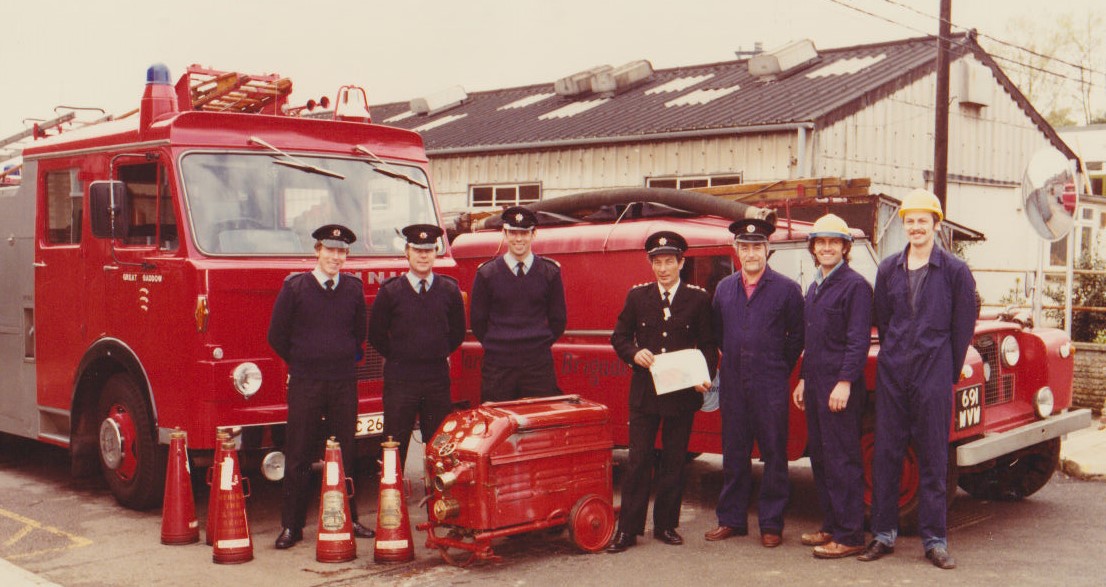 It was because of my exploits as a fire marshal, that when the Baddow chief fireman retired he put my name forward to take his place. I had an interview with Reg Nofolk, the Health and Safety officer, and I was appointed Chief fireman. I continued with this right up to the time I took Voluntary severance with only two years to Retirement.
When one of my Firemen left the Company he started work at Broomfield Hospital. Because of what he had learnt being a fireman at Baddow, he was given the job being in charge of the Helli pad at the Hospital, which is still there today.
During my time as chief fireman, if my memory serves me right, there was only one major fire incident in 1982. An accident in the MAT LAB plating shop in A block. This was when one of the plating baths caught fire and started to spread. The county fire brigade were called and we helped with our knowledge of hydrant location and firefighting Pond.
The fume extractors over the baths were made of plastic and soon started to melt. We were able to tell the firemen that one of the Baths contained Gold solution that was suspended in Cyanide - so they quickly evacuated nearby residents.
The firemen needed to know where in the plating shop the Gold bath was, so I donned my breathing apparatus and led them to the Gold bath. To our surprise we found that the pipe holding the extraction hood had melted and the hood had now fallen over the bath and sealed it. Since the fire was now out they could get everyone back to their homes, and the clean-up started.
Baddow also had an open day and a good time was had as the fire team put on a show. We had our hoses out and people had a go at aiming a jet of water at a target. We also demonstrated an indoor rescue of finding a person trapped in a room and being found by firemen, wearing breathing apparatus, and transferred to waiting ambulance crew.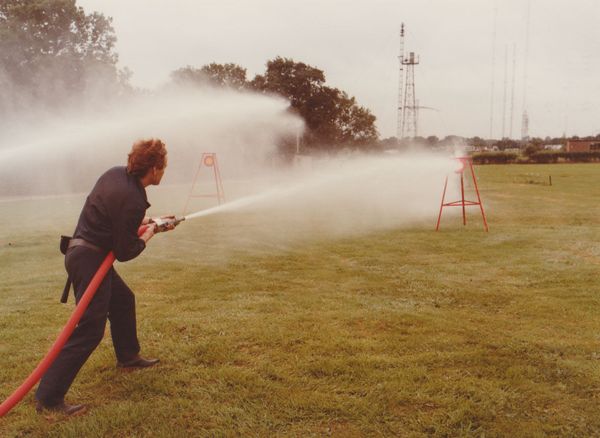 In my years at Marconi's I did several jobs
1) Printing and Etching Circuit Boards
2) Silk screen printing
3) Offset litho printing
4) Label making
5) Chief Fireman
6) Maintenance Technician
And I enjoyed the whole 41.5 years