Chairman Peter Turrall introduced our President for this year, Martyn Clarke, as someone with a long and impressive career in the company behind him, from apprenticeship in 1954 until retirement in 1995. His apprenticeship was spent in a number of departments before settling on broadcast television and outside broadcasting as a career path: this took him to a large number of countries during those years.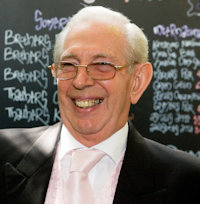 Martyn responded by fleshing out Peter's introduction. He started with the company as an apprentice in 1954, doing the customary apprentice tour around various departments until settling on broadcast TV as his subsequent career path.
He started in TDU – Television Demonstration Unit (later to become Operational Services Group) - in 1955 and was involved in demonstrating, installing and maintaining TV studio equipments, cameras, telecine equipments etc, in 17 countries around the world until about 1980. It was during this 26 years that the company had provided the studios – Studio M in South Kensington - for a number of popular TV programmes such as BBC TV's 'Tonight', 'It's a knockout' as well as coverage of sports events, and Granada TV's 'Zoo Time',
A couple of interesting anecdotes during from those years. Firstly, the need to think on your feet. During a broadcast of 'Tonight' the line went down, so Martyn phoned the BBC engineer at Lime Grove and asked if he had a GPO equalizing amplifier. "Yes, we do." "Right then, your programme tonight will be coming over on this control line".
Hairy moments? The first, when in Ankara in May 1963 for a refit of the Turkish broadcaster's 1936 studio equipment there was an attempted coup, with armed military, weapons loaded and bayonets fixed, taking over the studios, and the lady duty announcer having loaded revolvers at her head as she read out their statement. Martyn was OK however! Then, rather than a hairy moment perhaps, an uneasy a period, when working at Ulster TV on the Ormeau Road in Belfast during 'The Troubles', and having to be very careful about personal safety. "Your flak jacket is on the back seat of the car!"
Then came a change of direction into production control, first in broadcast TV, then when that came to an end in 1985, to mobile radio, finally retiring in 1995. Since retirement he has been heavily involved with the 8-man volunteer team (known as the TDU!) at Sandford Mill museum, restoring, displaying and maintaining vintage TV equipments, as well as digitising for the Marconi wiki tens of thousands of pages of company magazines and journals from 1950 to 1992.
Peter Turrall then introduced Martyn's Guest of Honour, Dr Paul Marshall, an ex-Marconi man who he described as a 'boffin' who could talk about any technical subject under the sun, particularly television, but with another interest, a 6-acre plot of land on which he and his wife Jill keep a variety of livestock – sheep, chickens, turkeys and horses.
Paul spoke about his entry to the world of work, the Marconi apprenticeship, in 1975. As he had built a vidicon camera from a kit at age 16, for a training project he was given a motley collection of defunct items of TV equipment owned by the then moribund Marconi Apprentices Association with a brief to get it working. After many months of intensive work with the aid of another apprentice friend Dave Hill they had a crude programme-making setup. With this kit they were asked to make a feature about the re-invigorated MAA's activities: this was then shown to all 450 apprentices to the evident satisfaction of the Director of Personnel. His apprenticeship culminated in a 'wonderful summer at Goonhilly Down Earth Station'.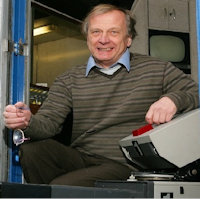 He left the company in 1983, going on to work in flight simulation visuals, a field in which he still works, but part-time since 2011. Alongside this he developed a parallel interest in the restoration of Marconi TV equipment which has developed into a significant business with a partner - 'Golden Age Television' – offering the hire of period cameras and monitors back into the TV and Film industry as 'props'. To the stock of studio equipment has been added since 1995 four outside broadcast vehicles. Altogether the equipments comprise a living museum and much of the kit is still used either at shows and exhibitions or as fund-creating Golden Age TV activities.
How can this endeavour be continued? Where are the skilled engineers, technicians and wiremen to come from? Day-to-day terminology of yesteryear TV is a foreign language to today's electronic graduates. And this restoration effort is dealing only with broadcast TV studio and OB kit – what about the related transmitters, microwave links, marine equipment, radar and so on? The preservation effort going into steam history, aviation, computing is healthy, so how can we fight our corner? The museum sector looks at our efforts as an anorak activity, and it attracts little funding. What's to be done?
Not an encouraging picture, but perhaps one hopeful straw in the wind, the possibility of a TV programme being made which would deal with the restoration of a Marconi OB truck. That could raise the profile of this branch of restoration.
Following the main speakers, immediately before the AGM our outgoing secretary Barry Powell was presented with a cheque from the committee in recognition of his fourteen years service in the role and for the support he has had from his wife Christine - the secretary's secretary.