A tribute by former colleagues and friends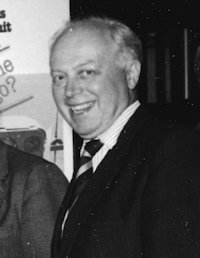 Ray, born in Chelmsford, lived all his life in the city. Leaving King Edward VI Grammar School in 1946, he joined Marconi's Wireless Telegraph Co as a student apprentice. Towards the completion of his apprenticeship, he was sent to work at Writtle in the wooden huts, joining the Aeronautical Navigation Aids Development (ANAD) group under Geoff Beck, who were working on the highly classified Doppler navigation equipment for the V-bomber force.
In 1951 he was called up for National Service, but was called back to Writtle to continue developing the revolutionary, all thermionic valve Blue Silk and Green Satin navigation equipments. Life at Writtle was never dull, and it often involved flight trials in various aircraft. On one infamous occasion, the helicopter being used clipped power lines over a reservoir near Yeovil, but managed to limp home: parts of Somerset however were left without electricity!
A much-used trial route was the Old Bedford Canal, in Cambridgeshire – no fun at all flying at 500ft on a hot humid day in the company's old Viking aircraft, G-AHOP, but with all its landmarks, excellent for navigation accuracy checks.
In 1960, all the Writtle ANAD and the Communications engineers were moved to Basildon – life was never the same again!
Ray led a team developing a new Doppler system, AD560, using transistors for the first time. This equipment was fitted to many of the world's passenger aircraft, and proved to be a great success for the Airadio Division.
In 1972, he became Chief Engineer with responsibility for all the division's communications and navigation equipment developments. At this time, the division was producing airborne equipment for the military and civil markets, HF and VHF radios, landing aids, Doppler based navigation systems, TACAN navigation systems as well as ground proximity warning systems. He was responsible for all the technical aspects of the division's work, which involved liaising with the customers and suppliers, earning their high respect.
In 1978, he became Airadio's Technical Manager, and in 1984, the division's Applied Research Manager heavily involved with Baddow Research Laboratories on future business.
Ray's office door was always open, and he was in his element solving technical problems alongside his engineers. He would find time to visit sick engineers. Not a very keen sportsman, he nevertheless did participate in some group-organised events.
He retired in 1995 but continued his interest in all technical subjects – once an engineer, always an engineer! Ray was a regular at the IEE lectures in Chelmsford, with the essential pint of Adnams afterwards! He was an 'ever present' at the annual Marconi Veterans luncheons too.
Ray was held in high respect by his colleagues in Basildon, Baddow and Chelmsford and in his passing, will be sorely missed.
Thanks Ray for the assistance you gave me when I needed some help with articles involving Airadio Division. Ed